From GateWorld:
http://www.gateworld.net/interviews/im_with_genius.shtml
(Please follow the link to download the audio interview or read the transcription at GateWorld.)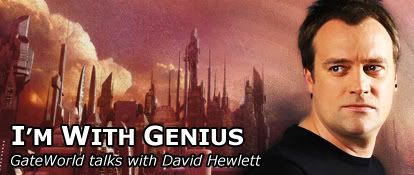 "I'm with Genius"
He's obnoxious. He's insensitive. He's a citrus-hating jerk.
Fortunately, Dr. Rodney McKay is nothing like his real-life counterpart, actor David Hewlett. Always kind, down-to-earth and unceasingly funny, David recently welcomed us into his trailer once again on the Vancouver set of Stargate Atlantis.
In our latest interview, David talks about the big changes to come in the fourth season of Stargate Atlantis, which is now in production. He has plenty to say about working with Amanda Tapping ("Samantha Carter") on a regular basis, and about how far Rodney McKay has come in the past few years. Finally, he fills us in on his other projects, including the new independent film "A Dog's Breakfast" and the sitcom
pilot Starcrossed.
GateWorld's interview with David is available in MP3 audio format for easy listening, and runs about 33 minutes. It is also transcribed [at the site]. You can also download the interview to your MP3 player and take GateWorld with you!
<><><><><><>
A brief excerpt:
GW: Finally, what would you like to say to fans who are getting ready to tune in to Season Four this fall?
DH: Ah. Thank you for waiting so long! God, how long has it been since Season Three aired? What would I say? Make sure you go to the bathroom before you start because we've got some scary episodes coming up. You will not want to leave.
Give the new kids a chance. See what you make of them. You'll definitely enjoy the new additions, as well. And look for some familiar faces. Something like that.
But definitely, make sure, if you've got to pee, go before. Because you've got an hour of television there and you do not want to hold it that long. Because there's going to be an accident.