From
GateWorld
: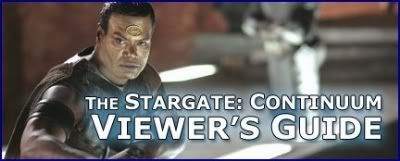 GateWorld: The Stargate Continuum: Viewer's Guide
The wait is nearly over. The long-anticipated movie
Stargate: Continuum
makes its way to DVD and Blu-ray disc on Tuesday, July 29! GateWorld's editors had a chance to see the movie early, and while we can't spill the beans, it does give us the chance to present this handy viewer's guide.
What follows is a Stargate SG-1 refresher course, a primer in the important points of show mythology to get you back up to speed for SG-1's biggest adventure ever. Before you sit down to enjoy Continuum, you'll want to know certain things about time travel, Earth's allies the Tok'ra, and where things were left with a certain nefarious System Lord.
While Continuum is a stand-alone movie that doesn't necessarily require a lot of back-story (it's a good one to use to introduce friends to the Stargate franchise), there are some key episodes from SG-1's 10-year television run that we recommend you watch before Continuum arrives. While not absolutely vital, it will help to make the most of your movie experience.
While you will not find any spoilers for the movie here, be warned that you might be able to figure out some things based on what we talk about.
If you would rather skip the primer, we recommend jumping straight to the recommended
episodes
and our
inventory
of GateWorld's Stargate: Continuum coverage over the past year.
Let's begin!