From the blog, "Grasping for the Wind," an interview with Karen Miller, author of several SG1 novels, including the upcoming, 'Do No Harm.'
http://otter.covblogs.com/archives/028609.html
(Please follow the link for the complete interview.)
May 01, 2008
Godspeaker: An Interview with Karen Miller
Karen Miller, is the author of the bestselling Kingmaker,Kingbreaker trilogy, a couple of Stargate SG-1 novels, and of several more novels in those worlds as well as all new ones to come, as she elucidates in this interview. One of my favorite authors, Karen's stories are the kind readers of epic fantasy will love. For more of my thoughts you can visit these other pages on my site.
**snippage**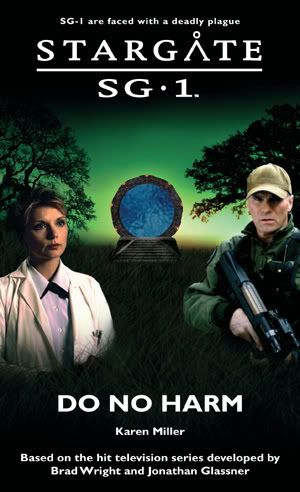 GFTW: You wrote a media tie in novel for the Stargate SG-1 TV series. Did you have to approach writing this novel differently from your other works? In what way?
KM: "Yes and no. I take the Stargate books very, very seriously. I know there are people out there who think folk who write media tie-ins are hacks without standards, but I utterly refute that claim. I've been a fan of the show ever since it started airing, and I consider myself enormously fortunate to be allowed to play in that sandbox, with those characters. I believe I have a huge obligation to do the very best job I can – I owe it to the producers, the actors, the crew and the fans to pour my heart and soul into the Stargate stories I write. And I do. At the end of the day I might come up short, in some fans' eyes, but if I do it's not because I didn't take the work seriously. So in terms of being rigorous in the writing and rewriting process, it's exactly the same. It's absolutely not the case of chucking down any old sentence and letting it sit there on the page like suet. I polish and rewrite till the very last gasp!

I do a lot of research. Some of that involves rewatching pertinent episodes (there's a hardship!) and sometimes it's regular-style research. I've just done my second Stargate novel, Do No Harm, which is out in a few weeks, and I had to do a lot of medical research for that one. I just can't stress enough – I don't look at media tie-in work as some kind of poor relation. It's as valid as any kind of storytelling, in my eyes, and I work as hard at it as I do at my mainstream fantasy novels.

Probably the biggest difference is that with the Stargate novels, you're working in a shared world with a common frame of reference. So there's less world-building, less exposition, because the writer and the reader already have an understanding of the environment. So that simplifies the writing process to a certain degree. But to balance that is the complexity of getting the characters right, keeping them true to the characters we see on screen. That's the biggest challenge, and the most fun."

**snippage**
Stargate Novels