At
CinemaSp
y:
(Please follow the link for the complete article.)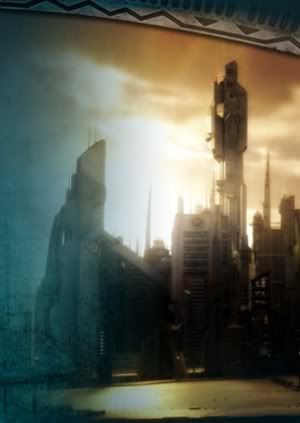 Remote View: Requiem for 'Atlantis'

Blaine Kyllo looks back at five years in the Pegasus Galaxy
By Blaine Kyllo | Wednesday, January 14, 2009
Ah,
Stargate Atlantis
, you young upstart. You matured before our eyes. Now you are five, and all grown up, and it's time for you to go.
Be sure that we'll miss you. You were more than just the younger sibling of
Stargate SG-1
, the long-running television series that exceeded and supplanted its cousin, the feature film. Just as SG-1 moved on to bigger and better and longer things, we hope that you will, too.
And as we will miss you, so will we miss the characters that brought life to you. The charming blend of nationalities, the elevated status of scientists, the tender treatment of the indigenous peoples issue ...
... Atlantis, it's time for you to go. There's a new baby coming soon, and its time to make room for it. Instead, you can move on to the occasional feature project, the longer form that will give you the chance to linger on moments, to revel in breathtaking battle sequences and, most of all, explosions.
We're not sure what your new sibling,
Stargate Universe
, will look like. In your final episode, Colonel Steven Caldwell mentioned that the Odyssey was on a top-secret mission even he wasn't supposed to know about, so it's likely that starship features in the premiere of the new series.
We know that
Universe
stars veteran Scottish actor
Robert Carlyle
as a character named Dr. David Rush. We hope that he and the other cast members that will soon join the crew will have the same chemistry, the same fast friendships, the same quick humor that you and your older sibling
Stargate SG-1
have.
Go well,
Stargate Atlantis
, and go with the knowledge that you were great to us, and we loved you for it.