From the Imagine Publishing site:
http://www.scifinow.co.uk/index.html
And the issue contents from their forum site:
http://www.scifinow.co.uk/forum/viewtopic.php?t=903&highlight=scifi+issue
(Please follow the link for the complete information.)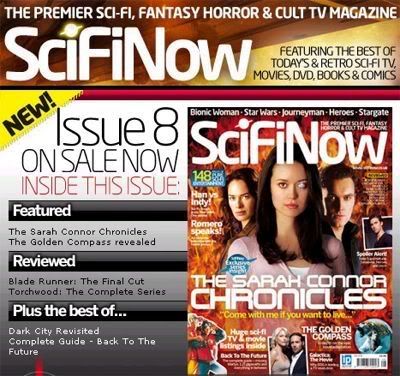 IT'S HERE!
Officially on sale 1st November, SciFiNow issue 8 is the latest issue of the UK's fastest growing and BIGGEST science fiction magazine. Here's a small taster of our new huge 148 page special powered issue, with an image of the cover so you what to look out for in the shops.
Inside:
• Also featured is a special preview feature dedicated to upcoming sci-fi TV movies, including Battlestar: Galactica – Razor,
Stargate: The Ark Of Truth
and Bender's Big Score!
• Our hugely popular and signature large retro section 'Timewarp' this month features: The Complete Guide To Back To The Future,
a look at the Stargate galaxy
, a retrospective on Buffy Season 6, a feature on Galaxy Quest, Dark City and more!
This issue 'warps' into all good newsagents on 1st November!
Those lucky enough to be subscribers should already have their copy almost a week before it's on sale date. Getting the magazine so early and with a big 30% saving makes even more sense to subscribe, so why not pop over to our eShop and sign up today at:
https://secure.widearea.co.uk/cisubs/IMAG/SCI/WEB100