'
Carny
' a 2009 made-for-TV movie, starring
Stargate: Universe's
Lou Diamond Phillips and Alan C. Peterson, Domenic Cuzzocrea, Vlasta Vrana and Simone Elise Girard, repeats Saturday, March 27, 2010 at 7pm on Syfy (US).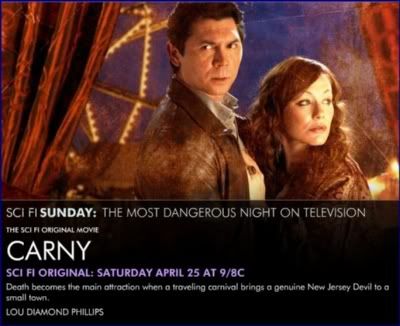 From
RHI
, the movie's synopsis:
When a traveling carnival comes to a rural Nebraska town, the caged attraction everyone is talking about is the alleged Jersey Devil. When the beast escapes, tearing the citizens to shreds, local sheriff Sam Atlas steps up to form a tracking team. But the carnivorous fugitive is only one of Sam's problems. The local pastor, enraged by the death of his son at the hands of the beast, has plans for igniting his own brand of hellfire and revenge.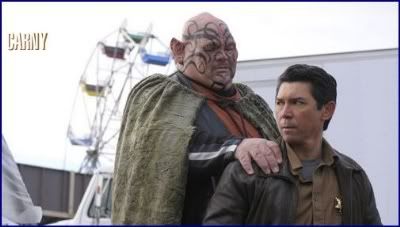 Some articles on the film's production:
Channel Canada
Ottawa Citizen
includes a brief interview with Lou Diamond Phillips.