From SciFi Channel Australia's
SciFi Pi
:
(Please follow the link for the complete interview. Some of this interview is similar to the previous interview from
IGN Australia
.)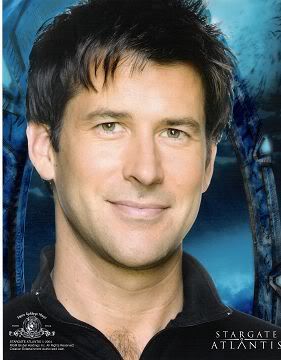 SCI FI - THE SCI FI AUSTRALIA BLOG
INTERVIEWS

Joe Flanigan Interview
Monday, September 1
by Captain
Sheppard, Colonel Sheppard. The coolest Colonel in two galaxies. Or is he just a big dork?
We found out in our chat with him on the set of Stargate:Atlantis.
(Turns out not that much of a dork, to be perfectly honest.)
Obviously with the recent news of SGA having its final full season with Season 5, the glory and the glamour of Atlantis will only return in movie-length form, so our trip to Vancouver now has something of a cherished, bittersweet feeling about it. What was interesting about meeting Flanigan was the way his onscreen persona and his off screen persona seemed to coincide. He's likeable, relaxed, easy going, yet underneath it all there's something a little bit more going on.
There may be just a hint of the guy who know's he's smart, but is also smart enough not to lord it over ever one else (a la David Hewlitt's character, Rodney McKay) but there's also the strong streak of 'well, this is who I am, I'm reasonably happy with it, you can take it or leave it', which among actors is not a common trait. At all.So an interview has more in common with a bus stop chat than some kind of weird hypefest.
Hopefully you'll soon get a feel for the real Colonel Sheppard, Joe Flanigan, and decide for yourself...
...Well, what about say, what he does with Teyla (played by Rachel Luttrell) and his response to her getting pregnant, being rather protective of her during Season 4.
JF: "Well, first of all you have to remember that I don't write this stuff, I act it! I think that, you know... actually, I've never thought about that. I guess if she is pregnant, you want to keep her out of physical harm, but if that's old-fashioned... wouldn't it be considered insanely irresponsible, not to?!

I think it actually plays as an 'impatient' thing, more than anything. I said I should be really tough to Rachel, more than anything. He might be a little old school, but when it comes to men and women... he's cool."
Ever since you were imprisoned with Todd (the Stargate team delights in naming the nightmarish Wraith individuals with rather mundane monikers) you guys have had an interesting relationship!
JF: "We pick up with Todd and try to do things together, but... surprisingly when plans go badly... we have, let's say, trust issues! We just generally have fun with the character. The only thing we have to be really careful of is that we don't get too familiar. There always has to be a freaky element. There's always something adversarial going on and at any given moment we can clearly kill each other. So no love lost..."
Stargate: Atlantis Season 4 is out on DVD and Blu-ray September 3 (in Australia).