At Zap2It's Kate O'Hare's blog,
Hot Cuppa TV
:
(Please follow the link for the complete interview.)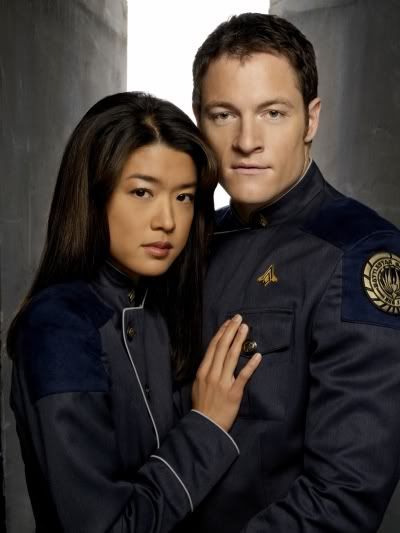 Tamoh Penikett bids farewell to 'Battlestar Galactica' and Grace Park
Tamoh Penikett
has come a long way for a boy from Whitehorse in Canada's Yukon Territory.
"Not bad at all for a little boy from the Yukon," Penikett says. "Where my mother was born is the coldest recorded temperature in North America, so I know about cold."
This Friday, March 20, his character on Fox's "
Dollhouse
," FBI Agent Paul Ballard, has a big episode -- coming face to face with "doll" Echo (
Eliza Dushku
) for the first time -- but
Penikett
is also competing with himself, as Sci Fi Channel airs the final two hours of the critically acclaimed "
Battlestar Galactica
."
In the series' conclusion, "Daybreak, Part II" (Part 1 aired last week and repeats at 8 p.m. EST, right before the finale), members of the
Galactica
crew embark on a mission to rescue Hera, the half-human/half-Cylon daughter of human pilot Karl "Helo" Agathon and Cylon Sharon "Athena" Agathon (
Grace Park
), who has been kidnapped and taken to the Cylon colony, which perches on the edge of a black hole ...