From Space.com (via Yahoo News):

http://news.yahoo.com/s/space/20080315/sc_space/enduringlegacythehistoryofstargate
(Please follow the link for the complete article.)

Enduring Legacy: The History of 'Stargate'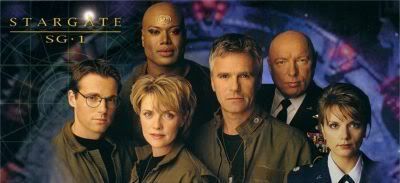 Steve Fritz
SPACE.com Sat Mar 15, 10:01 AM ET
Last December, the TV series "Stargate SG-1" made a little bit of history. After ten years of struggle, cast changes and network shuffles, it became the longest running American science fiction TV series, ever.
Let's repeat that. Ever.
Longer than any of the incarnations of "Star Trek." Same for "Babylon 5" or "Battlestar Galactica." Ditto for "X-Files," "Twilight Zone," "Outer Limits," or any other U.S. domestic series tripping the TV rift.
Of course, anyone from the other side of the Atlantic can look at the incredible number of years that "Doctor Who" has been televised and, maybe even righteously, up their nose at "SG-1's" decade of existence. But even the seemingly unkillable Doctor spent quite a bit of time travelling anywhere in dimensions and space but on Earth's airwaves, too. Still, when you consider the number of non-news/talk shows that have lasted longer than ten years anyway, the list is surprisingly small, especially here in the U.S.
**snippage**
Actually from another galaxy, the Ori, as any good race of bad guys, see the Milky Way as prime territory to spread their beliefs. As can also be expected, SG-1 stands in their way. As far as the TV show is concerned, this arc would not be resolved on the small screen because of Sci-Fi Channel's sudden decision to pull the plug on the series. As fans now know, it's now being handled in the first of the new direct-to-DVD releases, "Ark of Truth."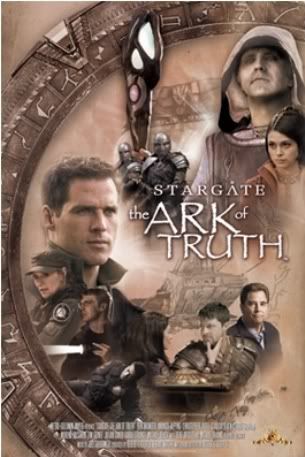 That doesn't mean every plot thread has been answered though. As it stands, "Stargate SG-1" is still an ongoing project. Another DVD movie, currently titled "Continuum" is apparently slated for release this July. Another spin-off series, "Universe" is also in the works and just might have characters from the original SG-1 series in it.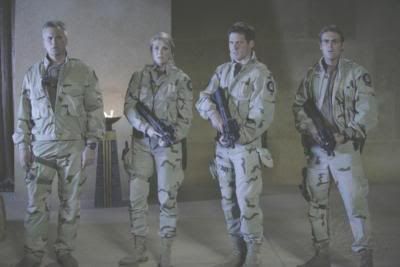 All one can say is time will tell. After all, it's a darn big universe out there.
* VOTE Now! Cast your vote for the Best Space Movies
http://www.space.com/php/multimedia/spacemovies/
* SPACE.com Quiz: Are You Game Enough to Join Stargate SG-1?
http://www.space.com/php/spacetrivia/index.php?quiz=SGQuiz
* VIDEO: Warp Drives and Wormholes
http://www.space.com/php/video/player.php?video_id=b010129_sp_warpdrives
Space.com's link:
http://www.space.com/