Saturday, October 6, 2007
From Slice of SciFi:
http://www.sliceofscifi.com/2007/10/06/breaking-news-star-trek-menagerie-in-thearical-release/
BREAKING NEWS! Star Trek Menagerie In Thearical Release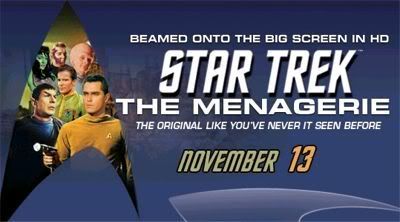 Posted: 05 Oct 2007 05:34 PM CDT
Source: StarTrek.com
COMING TO A THEATRE NEAR YOU: "THE MENAGERIE" REMASTERED!
On Tuesday, November 13, the two-part Star Trek Remastered version of "The Menagerie" will beam onto the big screen in a special engagement with selected theatres!
The screening — a first for Star Trek — will be seen in nearly 300 theatres across the U.S. and Canada. A one-night only event, the screening will also feature a special introduction by Eugene "Rod" Roddenberry, son of Star Trek creator Gene Roddenberry, plus a behind-the-scenes look at the making of the Remastered series.
"The Menagerie" screening is in part to promote the HD-DVD/DVD release the following week (November 20) by CBS Home Entertainment and Paramount Home Entertainment.
For ticket information, theatre locations and times, please click HERE.
http://www.startrek.com/startrek/view/news/article/2308573.html?sssdmh=dm4.228844
Be a part of history and make sure you beam over to your local cinema to witness Star Trek on the big screen like you've never seen it before!