The Nielsen Company has launched a new endeavor, with a new web site:
Hey, Nielsen!
http://www.heynielsen.com/
There are some Stargate links: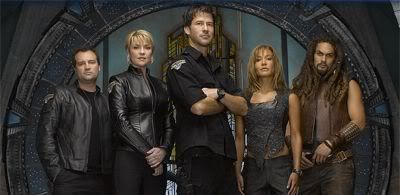 STARGATE ATLANTIS
http://www.heynielsen.com/view/951
STARGATE SG-1
http://www.heynielsen.com/view/960
You can "rate" each series, using a scale of -5 intense dislike through 0 for neutral up to +4 intense like. (This is at the top of the page, on the left hand side -- just to the left of the series title.)
Currently, SGA is rated with a 470 and SG1 with a 27.
<><><><><>
From Multichannel News, some background info:
http://www.multichannel.com/article/CA6481032.html?industryid=47200
(Please follow the link for the complete article.)
Ratings Company Launches Hey! Nielsen Web Site
By Linda Moss -- Multichannel News, 9/24/2007 8:18:00 AM
Nielsen Co. Monday began the public beta testing of Hey! Nielsen, an online social-network site for pop-culture enthusiasts who are eager to make their voices heard to Nielsen clients and other entertainment decision-makers.
Nielsen is hoping that Hey! Nielsen, developed with Affinitive, could be an effective mechanism for Nielsen to explore – and define – a wide variety of experimental media and marketing research.
Although the site is still under test and development, users will be able to participate in the site's main functions during this test period.
Members will be able to voice opinions and grade their favorite music, TV show or movie. These ratings and opinions will be available to other members, who can then respond with their own views.
**snippage**
Nielsen said members can contribute to the Hey! Nielsen Score, which will be a measurement system for the "buzz" on a star, TV show, movie and other entertainment property. The Hey! Nielsen Score is a combination of a number of factors including users' opinions and ratings on the site.
**snippage**