From
SciFi Weekly
:
(Please follow the link for the complete SciFi Weekly interview.)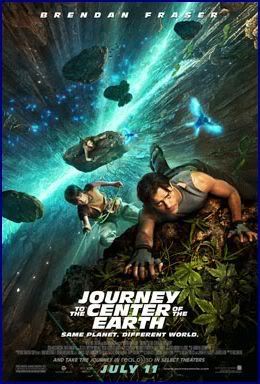 INTERVIEWS
July 07, 2008
Brendan Fraser and company add an extra dimension to Jules Verne in Journey to the Center of the Earth in 3-D
By Ian Spelling
Journey to the Center of the Earth
is one of the granddaddies of sci-fi/adventure tales, and so it's no surprise that every few years someone takes yet another crack at harnessing the wonders of the Jules Verne novel in a movie (James Mason and ... Pat Boone!), an animated show (with the voices of Ted Knight! and Pat Harrington!), yet another feature (Emo Philips! and Kathy Ireland!) and, just a few months ago, a telefilm (Rick Schroder!).
Now comes the latest and—everyone involved hopes—greatest version of all, Journey to the Center of the Earth, presented in 3-D, directed by 3-D and visual-effects veteran Eric Brevig and starring Brendan Fraser (The Mummy movies), Josh Hutcherson (
Zathura
) and Anita Briem (
Doctor Who
).
Set for release on July 11,
Journey to the Center of the Earth
stars Fraser as a scientist who, while seeking the truth about what happened to his long-missing brother, winds up—alongside his teenage nephew (Hutcherson) and an intrepid Icelandic guide (Briem)—in a world within our world. They've got to find a way back to the surface, but it's a race against time, what with dinosaurs, man-eating plants and rising lava all nipping sometimes quite literally at their heels. SCI FI Weekly recently ventured into Manhattan to talk with Fraser, Briem, Hutcherson and Brevig about their newfangled Journey.
**snippage**
It's your feeling that this Journey is a real moviegoing experience, right?
Fraser: Whether or not you liked Journey to the Center of the Earth, what we've done with the story, win, lose or draw, hey, have your opinion. I happen to think it's good. Others have told me the same. That's very nice. Thank you for that. If you don't, I'm sorry. I hope you find something that you do like. It didn't hurt my feelings. But one thing that is undeniable is that going to this movie makes the experience of being there the star of the movie. There's only three characters in this movies, the dinosaur, the fluffy birdies and plants that snap and bite. That's it. That's it. So the cool thing is that, for the first time, again, we're getting back to being there all together and having that cinema-going, must-have-buns-in-seats to experience this picture as it should be done. Now, we're the first one out of the gate. There are many of them lining up. Eyes in the industry are watching this movie very closely, let me tell you.
**snippage**
Anita Briem, as a native of Iceland, how did you feel your country was depicted in the film, and do you feel a special connection to it because of its setting?
Briem: Of course, of course! There's a reason why Jules Verne chose the place where the glacier was when we start to descend into the center of the earth. That area specifically has magical powers, and people come to this place specifically from all over the world. I actually think that's true of all Iceland. I think it's so special, apart from the water and air being so clean. It was a great joy for me to develop a strong female character in the spirit of an Icelandic woman. Icelandic women tend to be very strong and very independent, and I think that came in very handy because as Hannah the mountain guide I often found myself in these very dangerous situations, and I have on one hand a geeky scientist and the other a small child, and they are both going to get us killed, so I have to intervene and save the day, regularly. And I think that's whe
re the strong sense of the core Icelandic woman came in very handy.
**snippage**
Josh Hutcherson, you must have spent pretty much the entire Journey shoot with Brendan Fraser. You probably have a lot of stories ...
Hutcherson: Oh, yeah, I could go on for hours. We were practical joking the entire time. I had a squirt bottle that I started squirting on his pants while we were talking to make it look like he peed on himself, and then apparently there is a big wide shot that you can totally see it in the movie. And the scene where I'm pulling him up over the edge after the ground had fallen away ... wedgie, boom, right there. He got me back, though. Whew, did he get me back. Vengeance was sweet for him.
**snippage**
Eric Brevig, how did you balance paying attention to the visual effects and directing the actors?
Brevig: Luckily, I've had 25 years of doing visual effects and a bunch of years doing 3-D, so I could forget about that on the set and just focus on the actors and the story. And I made a big deal of telling that. "Forget about my technical background, I'm only here to make you guys look good and to make sure the story is the best it can be." So that was what I worried about on set. And we all got along great.