From TV Guide Online:
http://www.tvguide.com/Special/OnlineVideoAwards/
TV Guide is honoring the best professional video in 18 categories. Tell us who you think should win an Online Video Award - and come back and vote as many times as you want!
Tune in to My Network TV on December 5 at 8pm to watch the awards show and find out the winners!
To vote, just click on one of the categories [at the site]. Then watch all the nominated videos — and tell us your choice for the winner:
Funniest Web Video, Original Web Drama Series, Original Web Comedy Series, Original Web Reality Series, Web Talk Show, Web Actor, Web Actress, Funniest Duo, Comedy Web Site, Sci-fi Webisodes, Animated Web Video, Web Behind The Scenes Video, Celebrity Web Video, Best Extras, TV Drama Webisodes, TV Comedy Webisodes, TV Reality Webisodes, TV Show Site
ORIGINAL DRAMA SERIES
http://www.tvguide.com/Special/OnlineVideoAwards/videoplayer.aspx?maven_playerId=ovalargeplayer&maven_referralPlaylistId=c221fa4f4d35bf898fb0a98515e86703de6ab9c7&maven_referralObject=954c6434-559e-4400-af4a-7f976f4c323b
or
http://tinyurl.com/2vf9j5
Nominees: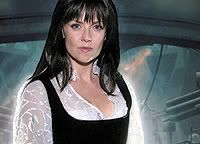 Sam Has Seven Friends
Prom Queen
Sanctuary
(Stars Amanda Tapping, created/written by Damian Kindler, directed by Martin Wood)
Lonely Girl 15