Airing Friday July 4, a 'Maverick' marathon on the cable Encore Movie Channel.
'Maverick' ran from 1957-1962 on ABC, and stars James Garner as Bret Maverick and Jack Kelly as Bret's brother, Bart Maverick.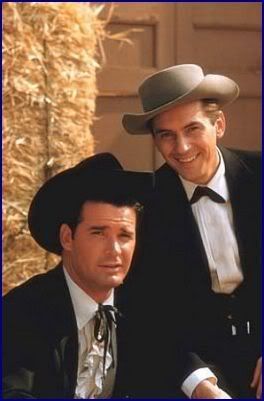 MAVERICK MARATHON
The fastest hand (of poker) in the Old West is coming to Encore. MAVERICK, featuring the Maverick boys Bret (James Garner), Bart (Jack Kelly), Beau (Roger Moore) and Brent (Robert Colbert) ruled the airwaves with a heady mixture of quick draws and even quicker wits. Combining comedy and action with everyone's favorite anti-heroes, Maverick's skillful blend of twisting plots and stacked decks is unforgettable…and it's only on Encore. The Maverick Marathon starts on July 4th at noon and includes special guests Clint Eastwood, Robert Redford, Martin Landau, Stacey Keach and more!
The schedule:
12:00P ENCR War of the Silver Kings - Series premiere episode! Guest stars include Leo Gordon
1:00P ENCR Point Blank - Guest stars include Peter Brown, Mike Connors and Karen Steele
2:00P ENCR High Card Hangs - Guest stars include Martin Landau and Efrem Zimbalist, Jr.
3:00P ENCR The Rivals - Guest stars include Roger Moore
4:00P ENCR Three Queen's Full - Guest stars include Jim Backus
5:00P ENCR Kiz - Guest stars include Max Baer, Jr. and Whit Bissell
6:00P ENCR Benefit of the Doubt - Guest stars include Robert Colbert and Slim Pickens
7:00P ENCR Pappy - Guest stars include Leo Gordon and Jay Novello
8:00P ENCR Duel at Sundown - Guest stars include
Clint Eastwood
and Edgar Buchanan,
9:00P ENCR The Iron Hand - Guest stars include
Robert Redford
and Glenn Strange
10:00P ENCR Family Pride - Guest stars include Stacy Keach, Denver Pyle and Karl Swenson
11:00P ENCR The Maverick Line - Guest stars include Buddy Ebsen