From Media Blvd. Magazine:
http://www.mediablvd.com/magazine/the_news/celebrity/an_exclusive_interview_with_aaron_douglas_200805071132.html
(Please follow the link for the complete interview. There are also photos and an embedded video -- a portion of the interview -- at the site.)
An Exclusive Interview With Aaron Douglas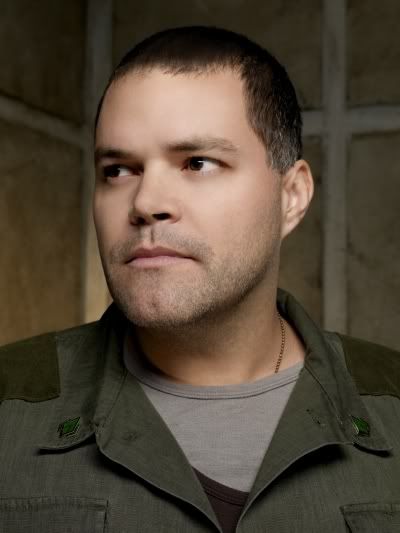 Wednesday, 07 May 2008
By Jamie Ruby

http://www.scifivision.com
Jamie Ruby of MediaBlvd conducted a one-on-one private interview during the Pittsburgh Comicon with Aaron Douglas of Battlestar Galactica, which is in its fourth and final season. Aaron plays the part of Chief Petty Officer Galen Tyrol, "The Chief," who it was recently revealed was one of the hidden Cylons.
**snippage**
Jamie>I know you said you ad-lib, I heard you talking about that.
Aaron>Yeah, it's a rarity when writers really give actors as much freedom as we have on Battlestar, I doubt there's a show on TV that has as much freedom as we have. Ron Moore and his team of writers are so amazing that you really don't feel like you need to change anything, but you need clarification, and Ron will always answer your call, the writers will always answer your call, answer your email, they're on set, they're open to suggestions, ideas, changes. "I don't feel like I would say this," and they'll either explain why – and they're setting something up for later, or they will listen to you, and say, "Well what else would you say?"

I mean, I don't know that I've ever said a line as written. I mean, I always change something, it just sort of puts it in your own vernacular, it's easier for me to speak this way. And they say, "I don't care, that's fine, as long as you're getting the point across, the message across," and that's it. Some actors, they really let go, and you can just say whatever you need to say, other ones they kind of reel in and they want to keep them on book a little bit more, because they get a little off point.

But we just did an episode with Ron Moore, his first directing, ever, and he realized just how much we change things and move things around, and you know, in the episode, I'm going to the executive producer, creator of the show, head writer, everything, and I just say, "I don't think I'd say that," and he'd just look at me and go "OK." It was great. I mean, it's such a testament to them to really trust the people that they've hired, and I think it's that collaboration which makes this such a special show.