From
Think Geek
: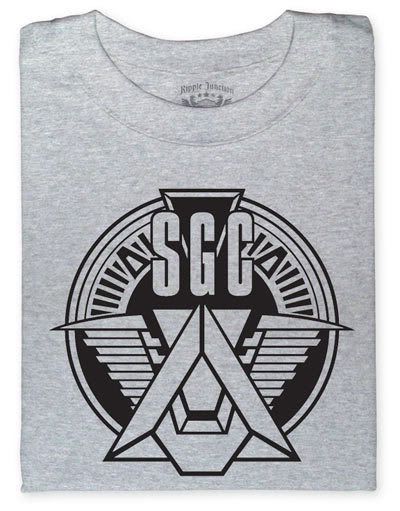 T-Shirts > Pop Culture >
Stargate Command

The Fate of the Human Race Hangs in Your Closet
You know, we have never worked so hard to bring y'all a shirt before. First, we gotta get an audience with our Senator ("Hey - can we talk to you about this Top Secret project that nobody knows about?"), then we gotta go before the Joint Chiefs and explain why it is that we need access the Cheyenne Mountain Complex. After the extensive background checks and possibly some wiretapping (how do they know we like bananas on our pizza???), we get stuck on a Space-A flight out to Colorado, escorted to the facility itself by several well-armed airmen who probably have better things to do than babysit ThinkGeek Merchant Monkeys. We make it through multiple checkpoints, into the tunnel, and to the final cardswipe before we see our target. It's right off the visitors' waiting room, wedged between the barber shop and the Class 6. The store that has the official Stargate Command Insignia merchandise. We present to you... the t-shirt.
Insignia of Stargate Command printed in black on a grey, 90% cotton, 10% polyester t-shirt (which the Unas call an "asek").
Price: $16.99 - $18.99