From Joseph Mallozzi's blog update for September 13, 2007:
http://josephmallozzi.blogspot.com/2007/09/september-13-2007.html
(Please follow the link for the complete blog update. There are new photos from SGA's season four at the site, and a new video clip!)
Thursday, September 13, 2007
I returned to work to find not one but two director's cuts AND a final mix awaiting me. Kudos to Joel Goldsmith on his terrific score for This Mortal Coil. This one is really special. Andy's director's cut of Midway is a lot of fun and chock full of action. Watch the big guys throw down and mete out some serious punishment with the big guns (and their equally big fists). Meanwhile, Will did a masterful job on Harmony. I LOVE this episode. I can't say enough great things about Jodelle Ferland's performance. Her interactions with the boys is both hilarious and touching.
Concerning the leaked episodes debacle… Yeah, sending out the rough cuts was a "major oversight" but, to be fair, SciFi was sending out those press kits as part of their ongoing efforts to promote the show's upcoming premiere. Also, Mark Stern and co. have been nothing short of great this year, showing us a lot of creative support throughout a sometimes bumpy run. So, regardless of how thing shake out in the end, we really do appreciate all of the time and effort they put into helping make this Atlantis`s best season yet. Also, to all those who don't know yet - SciFi Channel will be broadcasting season 4 in HD! Trust me - the show will look that much better this year!
**snippage**
Today's pics: Goodies from the Art Department.
Today's video: A quick clip of one of the aforepictured goodies in action.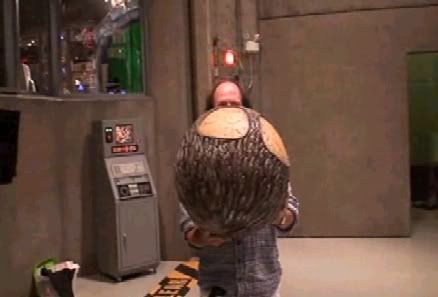 Photo is a screencap from today's video clip, featuring director Andy Mikita with a guest prop.
http://s230.photobucket.com/albums/ee164/BaronDestructo/?
action=view&current=M2U00012.flv
Today's mailbag -
**snippage**
MajorSamFan writes: "If there's a season five, do you foresee the Nox ever deciding to visit the Pegasus Galaxy?"
Answer: It's unlikely.
ZoniDuck writes: "Hypothetically speaking, if a person had... access to the leaked episodes, but had not downloaded them yet, and said imaginary person (who allegedly does not have a Nielsen box) were trying to be strong and wait until 9/28 (despite the fact that everyone and their mother is squeeing and flinging spoilers around), could you offer some words of encouragement, and explain the reasons why watching a rough cut of the episodes is a horrible, awful idea?"
Answer: Well, if this hypothetical person was, hypothetically speaking, going to hypothetically watch the downloaded version anyway, I would suggest they watch the September 28th premiere on SciFi so that they can be surprised and blown away by the unexpected - story, revelations, visual effects - and then check out the rough cut in their possession as a sort of behind-the-scenes/in-the-making featurette to give them a better appreciation of what goes into the making of a given episode.
Elizabeth writes: "1) Any Jack and Sam moments in Stargate Continuum? 2) What happened to the little girl in Sateda? Did she survive? Does Ronon have any children? 3) Who is going to be in season five? Is O'Neill going to be in season five?"
Answers: 1) Yes, they are in scenes together. 2) She survived and was placed with another off-world community the Satedans did trade with. Ronon has no children. 3) No idea.
Horse N. Buggy writes: "Obviously, Nielson ratings are the big ticket item determining ratings. But for those of us without a magic box, does it help for us to buy episodes on iTunes?"
Answer: Good iTunes sales would certainly go a long way toward confirming to MGM that a fifth season would be a great idea.
Anonymous #2 writes: "Will love be a factor this season?"
Answer: I'm not sure what you mean by "a factor" but certainly love will influence a story or two this upcoming season.
**snippage**