At
Miss Geeky
:
(Please follow the link for the complete interview.)
Interview: John Noble (Walter Bishop) from Fringe [Part 1]
I love being able to participate in Fox's conference calls, and last Friday I got to join an interview with
John Noble
, who plays Walter Bishop on
Fringe
. This is a write-up of all the questions that were asked by the various bloggers and news outlets that were part of the call.
I've split the interview into three parts. One without spoilers today (unless you consider experiments in past episodes spoilers), and two for tomorrow and Saturday with spoilers about tonight's episodes and some glimpses into the final eight episodes.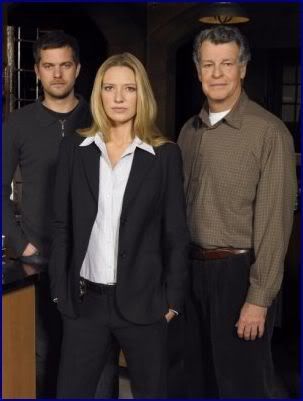 A brief excerpt:
Q: There are really two parts to Walter. First, is the incredibly strange, but forward- thinking scientist. The other is just the really odd, random, forgetful man. Can you talk a little bit about what's the most fun to play about that character and what is the most challenging?
A: Look, you've accurately described Walter, you know, as a man that is capable of incredible laser-like thought processes, and also is childish and haphazard and random. The joy of it really is that I'm free to make those choices, that sometimes Walter will hide behind his childishness. Other times, he will substitute a rage for a childish episode.

He's an incredibly complex character. However, I think that there is a little of Walter in all of us, and certainly, I have observed in my life the extremes that we see in Walter I've observed in other people. The joy for me is that every day, the challenge is to make those choices as to which way I will go. And I work quite closely with the writers on this material as well.