From SciFi Wire:
http://www.scifi.com/scifiwire/index.php?category=0&id=51011
(Please follow the link for the complete article.)
12:00 AM, 26-MARCH-08
Sanctuary Is All New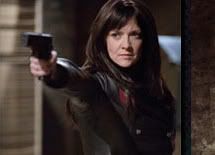 Amanda Tapping, star and executive producer of SCI FI Channel's upcoming new series Sanctuary, told SCI FI Wire that the show will differ significantly from the Web series on which it is based.
**snippage**
"The fact is it's already evolving," Tapping said in an interview at the channel's upfront presentation to advertisers in New York earlier this month. "Our pilot that we're now going to start shooting is very different from what you've seen on the Web. But [Magnus] is still this crazy character. She's 157 years old, and she's very eccentric and very sexy and very unapologetic. I love it."
**snippage**
"It gives us a good home base," Tapping said. "SCI FI is the perfect fit for this show and for me, because I have worked with the network for so long. It made so much sense to stay with this network. They understand the genre. They understand the fans. And now they understand multimedia platforms in terms of utilizing social networking, which is what our company is all about. So it's a perfect fit." Sanctuary will premiere later this year.
--Ian Spelling