At
GateWorld
: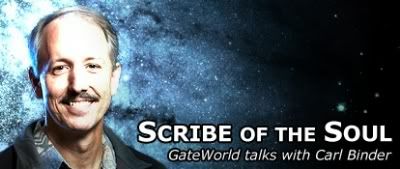 Scribe of the Soul

GateWorld talks with Carl Binder
A veteran writer of more than 20 years,
Carl Binder
admits he has never been more happy than he is now working on
Stargate Atlantis
. Season Five brings new challenges to the production team as Atlantis becomes a seasoned series with nearly 100 hours of entertainment committed to film.
In our latest interview with the writer, Carl tells GateWorld about "hitting the ground running" fresh from the Writers Guild of America strike, which ended a month after production on Season Five began. We discuss his favorite episodes coming down the pike, including one he has been toying with, the absence of Weir and Carter as regular cast members, and the introduction of Woolsey as a regular.
GateWorld's interview with Carl runs almost 25 minutes. Listen online at your leisure, download it to your MP3 player, or subscribe to the iTunes podcast. The full interview is also transcribed [at the link above]!
A brief excerpt:
GW: What's the idea behind "Ghost In The Machine"? Where did this come from?
CB: Ever since "Be All My Sins Remember'd", when I saw and read the script, I was like "We have to ... we can't leave this hanging." We've got to figure this out. So it's finding out what happened to Weir, and where we go from here. Originally, it involved bringing Torri [Higginson] back, but then she declined. So we had to step back and figure out a new way to tell the story, which -- I don't know who came up with the idea -- but it was a great way to do it. So I'm really happy about that.