From the SciFi Channel's SciFi Weekly:
http://www.scifi.com/sfw/interviews/sfw19033.html

(Please follow the link for the complete interviews.)
INTERVIEWS
June 23, 2008
Go behind the scenes as the cast of Stargate returns for the direct-to-DVD adventure Continuum
By Interviewer Saravanan
Stargate fans who've been longing for more adventures with the SG-1 team will get another chance to catch up with their old friends next month when Stargate: Continuum arrives on DVD. Where the first direct-to-DVD movie, The Ark of Truth, devoted itself to tying up loose threads from the series, Continuum is an alternate-timeline story. It will give fans a chance to see some familiar faces as they've never seen them before.
After a press preview screening in Vancouver, we sat down to talk about the behind-the-scenes aspects of making new Stargate movies with writer and show runner Brad Wright, executive producer N. John Smith and production designer James Robbins.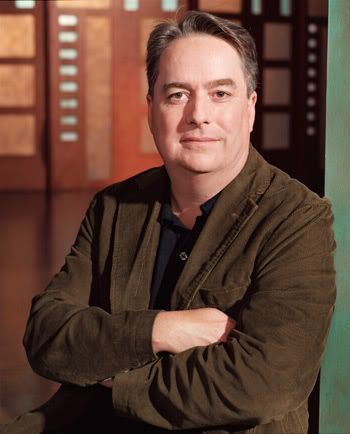 Brad Wright photo courtesy of MGM Stargate
A brief excerpt:
Brad Wright, although Continuum is a direct-to-DVD film, we just saw it on a big screen, and it looked great. Was a theatrical release considered? Or is it a possibility for future Stargate movies?
Wright: The reasons that this could never be theatrical are entirely business and not at all creative. Apparently it had to do with pre-existing deals with the original feature film and subsequent production. In other words, we would have to go into a theatrical release with a lot of deals already made. We can't just make a movie and put it on the screen. But Charlie Cohen can green-light two DTV movies.

That said, one of the reasons I wanted to do Continuum was as an audition to prove we could do Stargate as a theatrical release. If this does as well as I hope and think it will do internationally, we may get that shot.