From Sanctuary For All and Damian Kindler's blog: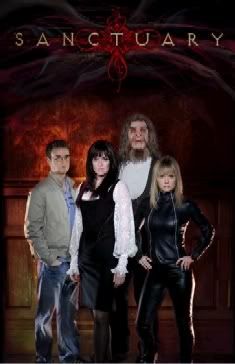 http://www.sanctuaryforall.com/blog/index.html
(Please follow the link for the complete update.)
Wednesday, July 25, 2007
Evolution
Hey All
Thank you for your patience and rave reviews of the show. For me - along with many of us here at s3m - Wep 5 is our fav. Let us know what you think of all the webisodes, we love to hear your feedback.
**snippage**
This weekend I will be attending COMIC CON 2007 in San Diego with cool Sanctuary swag for sale and signings by Amanda Tapping, Martin Wood and Robin Dunne. Check Sanctuaryfans.com in the next day or so to see a video of 'Amanda vs The Fan'.
For those of you attending, we're at Booth #3847, Hall "H". Signings are on Saturday -- but don't be shy, come on by anytime and say hi! I always love chatting with fans.
Peace.
xoxo
DK