From SciFi Wire:
http://www.scifi.com/scifiwire/index.php?category=0&id=51813
(Please follow the link for the complete SciFi Wire article.)
12:00 AM, 08-APRIL-08
Goldsmith Talks Stargate DVD Scores
Joel Goldsmith, the longstanding composer for SCI FI Channel's original series Stargate SG-1, told SCI FI Wire that he used different approaches to creating the scores for the two feature-length Stargate movies arriving on DVD.
Stargate: The Ark of Truth, now in stores, used some of the themes Goldsmith set up in the series for the Ori and the Replicators, while the upcoming Stargate: Continuum allowed him to be more expansive in his approach.
"First of all, I could use a symphony orchestra rather than electronics that simulate an orchestra," said Goldsmith, who worked on SG-1 starting with the pilot in 1997. "And because the Ark movie wrapped up some of the stories so well, I reached for a few of the familiar themes from the Ori and Replicators and then created different situations and new themes for Teal'c. Of course, everything was more cinematic."
**snippage**
Continuum, which arrives on DVD in July, is more of a stand-alone film, Goldsmith said. "It is a great, old-fashioned SG-1 film," he said. "It is more retro-Stargate, and, without giving away too much, it's going back to some more things from the past."
Meanwhile, Goldsmith continues working on the spinoff series Stargate Atlantis. "This will be a fantastic season," he said. "People will be really happy with it. They did a great job."
--Mike Szymanski
<><><><>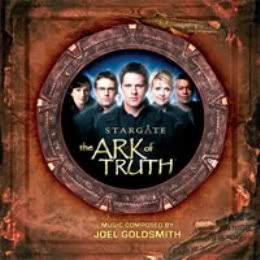 The soundtrack for Stargate: Ark of Truth is available for purchase at the Joel Goldsmith website, Free Clyde:
http://www.freeclyde.com/music/sg_aot.html