From Joseph Mallozzi's
blog update
for June 19, 2010:
(Please follow the link for the complete blog update.)
The Farewell Tour! Back On Top! Janina's New Music Vid!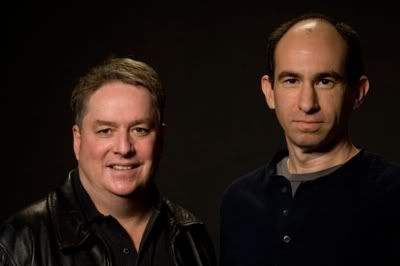 Stargate Universe creators Brad Wright and Robert C. Cooper
A short and early blog entry today as I'm heading off to the first stop in
Robert C. Cooper's
farewell victory tour. "What's that?" you say. You didn't know he was leaving? Well, yes. Sad but true. His appearance at this year's Comic Con panel will mark his final Stargate-related contribution, so if you happen to be in the San Diego area in late July, make sure to say goodbye and thank him for fourteen years and countless hours of gate-tastic entertainment. But, please – no tears. If you start crying it'll only be a matter of time before he starts crying as well (the ole softy) and that'll just embarrass him...