At Canada's CBC
The Hour
: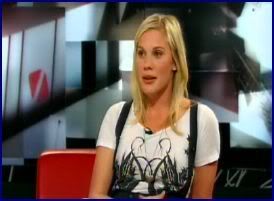 From March 13, 2008.
Katee Sackhoff
got her start on the small screen. She got a role in a TV movie with Kirsten Dunst, and caught the acting bug. From there, she had some guest spots on
E.R.
, had a role opposite
Jamie Lee Curtis
in '
Halloween: Resurrection
,' and recently, she's kicked some ass as the villain 'Sarah' on the '
Bionic Woman
.' But if you're into science fiction, you know Katee as Kara 'Starbuck' Thrace - a fighter pilot on '
Battlestar Galactica
.' A show with a serious cult following. So what's '
Battlestar Gallactica
' about? Well, it's about a space crew, looking for Earth after surviving a nuclear attack on a far away colony. But it also reflects our post 9/11 world. It deals with terrorism, religious extremism, torture, and the sacrifice of freedoms in the name of security. Hmm, sounds familiar ...