From Amazon Screening Room:
http://www.amazon.com/gp/blog/post/PLNK718OX9LIU70S
Grace Park Audio Interview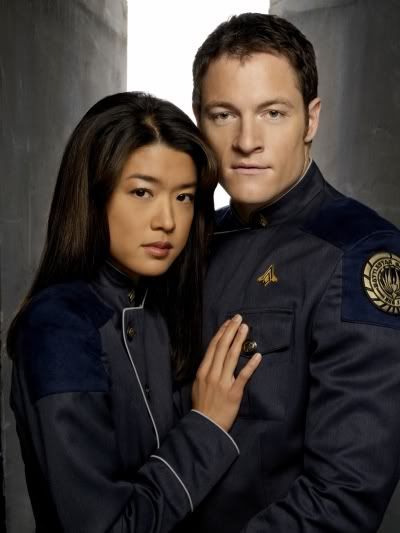 A brief interview transcript:
Park checked in from Vancouver, B.C., where the show's final episodes are now being filmed now.
How did people feel when work on the final season began?
GP: "For some people it was relief, for some people it was a kind of pre-emptive nostalgia. I'd say I fall into that last camp. Certainly we would look at certain sets and say "Is this the last time I'm going to be in this area. Sometimes that would be "thank goodness!" That cylon rebirthing is really not fun. No one really wants to be reborn."
Why goodbye is really goodbye:
GP: "We're not going to do a movie. Once it's done, it's done. Especially since they're going ahead (with the prequel Caprica) and casting, there's other things ahead for Battlestar, and it's actually kind of going backwards in time. But none of us has seen the last episode so who knows?"

On the Battlestar "family":
GP: "Working on this show is a way to have friends without trying. You keep seeing each other for hours every day and you eat together and you joke around together and you work together and you cry together. So, you get to bond with each other. And you don't even have to call each other because two days later you get together again. Or a week later, or a season later. And we do try to include each other somewhat in our lives, but people get busy, people get flaky, people do their thing. So I'm going to take these last nine episodes to really cement my friendships."
Grace Park Audio Interview download link:
http://amazonqa.vo.llnwd.net/o21/GracePark.mp3