From the SciFi Channel's SciFi Weekly:
http://www.scifi.com/sfw/interviews/sfw18997.html
(Please follow the link for the complete SciFi Weekly interview. Photos from the movie at the site.)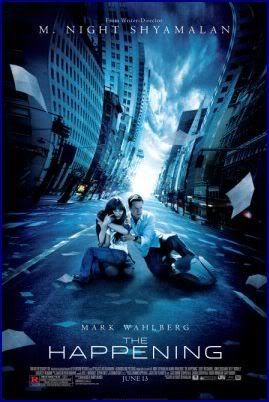 INTERVIEWS
June 11, 2008
The cast and crew of The Happening encounter mass suicide and strong faith in M. Night Shyamalan's latest B movie
By Ian Spelling
M. Night Shyamalan describes his latest film,
The Happening
, as a "great B movie." His goal, simply put, is to scare the hell out of audiences. This time around, the writer-director of
The Sixth Sense
,
Unbreakable
,
Signs
,
The Village
and the much-maligned
Lady in the Water
spins an intense, R-rated tale about everyday people—among them a good-guy science teacher, Elliot (Mark Wahlberg), his emotionally detached wife, Alma (Zooey Deschanel), and the teacher's best pal and math-teacher colleague, Julian (John Leguizamo)—on the run during a mysterious event in which men and women become disoriented and then kill themselves. Is it an organized terror attack? Have we pissed off Mother Nature, and now she's teaching us a lesson? Has an experiment run awry?
SCI FI Weekly was on hand recently when Shyamalan, Wahlberg, Deschanel and Leguizamo sat down for a half-hour press conference at a Manhattan hotel. Here's some of what they had to say about the June 13 release. Warning: major spoilers ahead.
**snippage**
And the cast's thought on the spiritual aspects of this film?
Wahlberg: Well, I think Night cast me because of my strong faith. But then we'd do a take, and he'd be like, "That was great. What were you thinking about?" I was like, "Jesus." He was like, "Oh, we got to do it again!" Literally.
Shyamalan: We had this conversation. "What were you thinking about?" "Jesus." "What?!"
Wahlberg: He said, "Oh, my God. I really liked that! What were you thinking about?" I said, "Jesus, baby." "We got to do it again." But obviously, you know, yeah, I think he cast me because of my faith. Somebody asked me why Elliot survived, and it's because he had so much faith and hope.
Deschanel: I mean, I think as much it can be interpreted as a philosophical message as much as a spiritual message, in that faith can be spiritual or it can also be a philosophy. So I think the movie raises questions, and any time you're raising questions you're inspiring people to think about things. And I think that's really good, because I definitely came outof seeing the film feeling like I wanted to question my own beliefs.
Leguizamo: I haven't seen the movie. I didn't see the flick. I don't know why. Probably because I'm a pagan, and people who have no faith weren't allowed to see it. [Laughs.]
**snippage**