From a Creation Entertainment e-mail announcement:
SCI-FI GRAND SLAM CONVENTION UPDATE!
The 17th Annual Creation Entertainment GRAND SLAM: THE SCI-FI SUMMIT is coming to the beautiful Marriott Los Angeles Airport Hotel on May 1-3, 2009 and we have an outrageous line-up of guests and attractions (and vendors) set for what should be a spectacular weekend of genre entertainments!
Today we are announcing the imminent SELL-OUT of GOLD WEEKEND PACKAGES for this convention! Gold weekend packages (which include lots of in-person star autographs, parties, best seating, etc.) will be SOLD OUT and removed from sale at the close of business (5pm Pacific Time) on Monday March 16th! It's an awesome deal: so get in under the wire and "Go Gold" for Grand Slam!
Other ticket options are still available and you can come and see it all for as low as $25 a day general admission!
CLICK ON THROUGH AND MAKE YOUR PLANS TO BE WITH US
!
And check out the sensational celebrities already coming to the convention...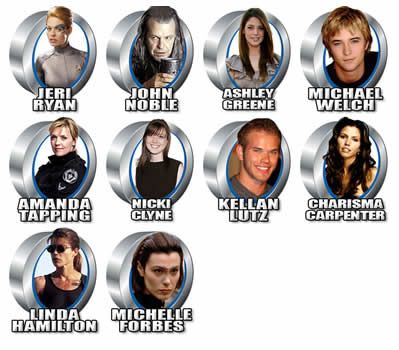 GRAND SLAM: THE SCI-FI SUMMIT
Fri. Sat. & Sun. May 1 - 3, 2009
Marriott Los Angeles Airport
5855 West Century Blvd.
~~**~~**
Media Guests include:
Jeri Ryan, Linda Hamilton, Amanda Tapping, Kellan Lutz, Michael Welch, John Noble, Michelle Forbes, Charisma Carpenter, Nicki Clyne
and
Ashley Greene
.