From Joseph Mallozzi's
blog
update for September 21, 2008:
(Please follow the link for the complete blog update and to view the NEW photos from the Stargate Atlantis wrap party [in their original format], including photos of: David Nykl, Kavan Smith, Robert Picardo, Jason Momoa, Paul McGillion, Sharon Taylor, Dean Marshall, Jewel Staite, Gary Jones and many more...)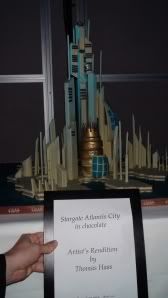 Atlantis in chocolate
September 21, 2008: The Wrap Party!
Well, MGM pulled out all the stops for the big 100th Episode/Series Wrap Party. The Sheraton Wall Centre was the scene of the festivities that included black jack, roulette, gaming stations, and lotsa food. A huge thanks to Jeff, Theo, and Ramona for organizing the event...

Robert C. Cooper and Brad Wright
...Thank you for five wonderful years.
And thanks to you, the fans, for five wonderful years of support.
Well, the party may have ended at the Sheraton but festivities continue here on this blog. I'm collecting questions for Stargate: Atlantis (and much, much more) composer Joel Goldsmith. If you have questions for the maestro, let's see 'em.
Finish up The Black Company. If you have questions for author Glen Cook, let's see them as well. I'll be weighing in with my thoughts on the book in tomorrow's entry.
Gary Jones and Paul McGillion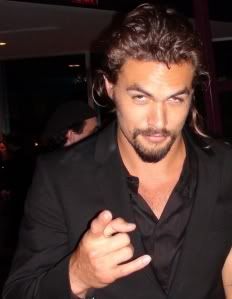 Jason Momoa
David Nykl and wife

Kavan Smith and Corinne
Robert Picardo

Leah and Jewel Staite