At
Imagine Publishing
: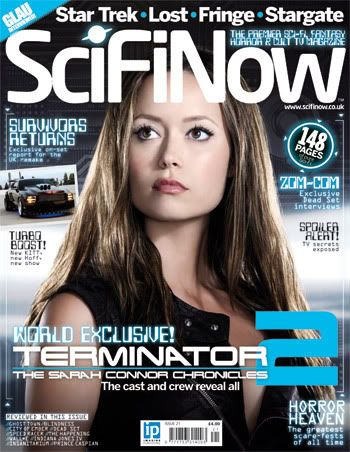 Officially on sale 30th October, SciFiNow Issue 21 is the latest issue of the UK's fastest growing and biggest science fiction magazine. Here's a small taster of what's in store in our huge 148 page issue.
FEATURED
Sarah Connor Chronicles: Season 2
The greatest horror movies ever made
Survivors returns
REVIEWED
Blindness
City Of Ember
Dead Set
PLUS the best of ...
Complete Guide To The Post-Apocalypse
Knight Rider's back!
Retro Classic: Forbidden Planet
More
info at:
• We talk to Charlie Brooker about his new series, Dead Set, and the fuss about running zombies.
• SciFiNow throws itself into the fight against Skynet, with our exclusive interviews with the cast and crew about the second season of this metal-melting series.
• And all you could want from the UK's premiere science fiction, horror, fantasy and cult magazine.
Skynet has awoken, and issue 21 speeds its way into all good newsagents on 30t October 2008!
Those lucky enough to be subscribers will have made a huge 30% saving, so why not pop on over to our
eShop
and join them today.