From
Joseph Mallozzi's
blog update
for June 12, 2010:
(Please follow the link for the complete
Julia Benson
Q & A and to view some behind the scenes photos of Julia from SGU.)
Actress Julia Benson Answers Your Questions!
Exec. Producing
Stargate: Universe
is not unlike coaching an immensely talented sports franchise. You go in to each script – or game – confident in the talent you're working with, solid starters and a deep, deep bench that never lets you down. And, on many occasions, even though you're expecting them to excel, they still manage to surprise and delight. Take
Julia Benson
(
SGU's
Lieutenant Vanessa James) for example, an actress who started off strong in the opener and just keeps getting better, delivering everything from throwaway humor (
Space
) to emotional intensity (
Pain
) with the skill and professionalism of a seasoned performer many years her senior.
It's not surprising that, between the time I announced this Q&A and today's entry, Julia picked up the Leo Award for Best Supporting Performance by a Female in a Dramatic Series.
Congratulations to Julia on the win, and a big thank you for taking the time to field our questions.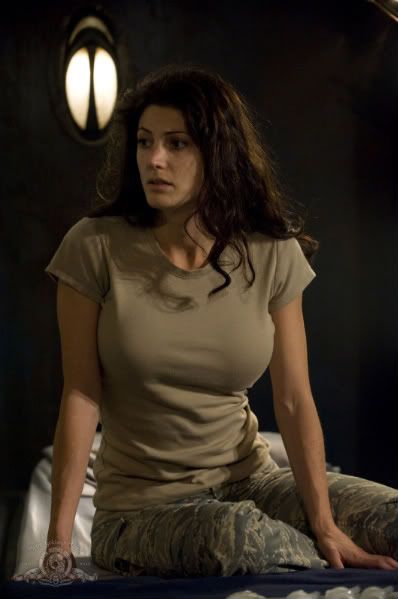 Over to Julia ...
Chevron7 writes: "Questions for Julia:
1. What's your workout routine? Did that change when getting the role of Lt James?
JB: I am always changing up my workout routine, otherwise I get bored! But I have a chocolate lab that I run with almost daily. That is definitely my favorite form of exercise. When I got the role of James, I did start working out with a trainer. I find it helps with the weight training. I did some kickboxing to toughen up physically and just recently I have been taking kickboxing classes with Sharon Taylor from Stargate Atlantis. She's amazing!
2. Which cast member would you most like to beat in an arm wrestling contest?
JB: Jamil, just for bragging rights! He's not only in incredible shape but we have a fun banter with each other and it would be awesome to bug him about something like that! Lol
... 7. What are your aspirations for Lt James in Season 2?
JB: I would love to see James put in a position where she really has to step up and be a leader. And then I would like to see her succeed at that. Like all of us her confidence goes in and out, but James is a fighter and she has a ton of strength in her. As an actor I have loved any opportunity to do fight scenes and stunts so I would love her to continue in that direction...