From Joseph Mallozzi's
blog
update for October 2, 2008:
(Please follow the link for the complete blog update and to view the NEW behind-the-scenes photos [in their original format] from production of
Stargate Atlantis'
100th episode, '
Enemy at the Gate
.')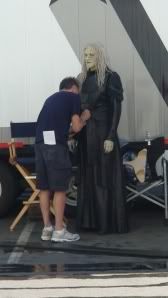 Making sure Todd (Christopher Heyerdahl) looks his best
October 2, 2008: What the Future Holds (No Spoilers!)
One of the great things about doing this daily blog is that it affords me the opportunity to head off rumors and fan concerns before. Today, for example, I see many a panicked reaction to a recent
Vancouver Sun
article that states: "Heavy machines are smashing the
Stargate Atlantis
TV series' set in Bridge Studios' 40,000-square-foot effects stage."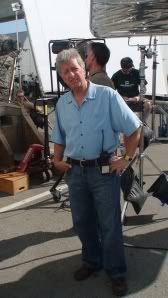 1st Assistant Director Alex Pappas
Well - yes, it's true and, no, it's not a big deal. We're not talking about Stage 2 (that houses the wraith hive/facilities) or stage 3 (that houses the Daedalus/Apollo) or, more importantly, stage 6 (where the Atlantis gate room, control room, infirmary, Woolsey's office, and various corridors are located). We're talking about the FX Stage, the location of the (well played-out) village set, cave sets, catacombs, and one of our cafeteria views. No big loss.
Hell, Stage 5 (which holds the SGC gate room, control room, briefing room, and several corridors) is still up despite the fact that SG-1 was cancelled two years ago!
So, fear not. The movie will not be take place entirely on some forested planet.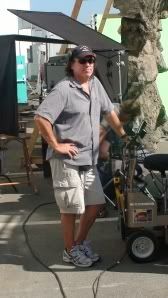 Director Andy Mikita
...Finally, to those of you asking about that super, secret project I mentioned in yesterday's blog entry - Nope, it's not Stargate-related.
Well, that's it for now. Here, enjoy some non-spoilery pics from our series finale.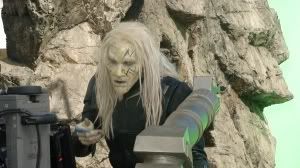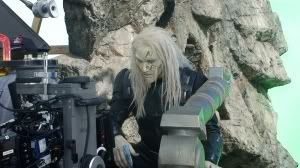 An introspective Todd