At
Cinema Spy
:
(Please follow the link for the complete five-page article and the photos.)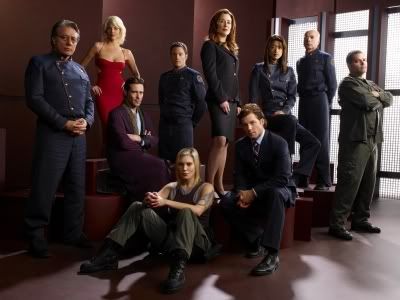 Exclusive: The 'Battlestar Galactica' Cast & Crew Coffee Table Book

A sneak peek at intimate, behind-the-scenes reflections
By Robert Falconer | Tuesday, September 16, 2008
Battlestar Galactica
wrapped production here in Vancouver earlier this year, ending a four year run that has not only transformed the landscape of science fiction, but garnered repeated critical acclaim both from mainstream news organizations and the blogisphere alike. As a special commemorative, the production published a beautiful, hardcover tome this summer in which cast & crew recounted their experiences working on the series.
Only intended as an internal publication for those who worked on the show (don't bother looking for it on Amazon, you won't find it), the book is filled with wonderful, intimate anecdotes from producers Ron Moore and David Eick, to almost every member of the production personnel and, of course, the cast.
CinemaSpy was fortunate enough to get our hands on a copy of the book, and since most of you will never get a chance to see it, we thought we'd share a few excerpts and photos from it herewith so that devout fans can partake in some of the wonderful behind-the-scenes thoughts and memories experienced by those who happily toiled on this grand project.
A few notable names surprisingly escaped the publication, among them Concept Illustrator
Eric Chu
, who was responsible for designing the new Galactica, Centurions, Raiders and Basestar, along with CG Supervisor
Lee Stringer
(Zoic) who worked on the miniseries, and Digital Effects Supervisor
Emile Edwin Smith
(Zoic).
Those omissions aside, however, it's a fascinating examination of the inner workings of a series, told through the ruminations of those who brought it to life. Broken into several sections, it also includes story summaries for each of the four seasons.
One of the more interesting extracts comes from
Ronald D. Moore
, who below cogitates over his first experience directing (the forthcoming episode "The Oath"), which is where we begin...