Monday, September 22, 2008
At Alex Levine's SciFi.com
blog
for Stargate Atlantis:
(Please follow the link for the complete blog update.)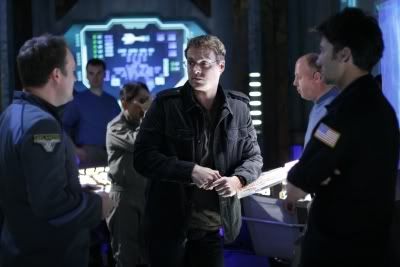 September 22, 2008
Heists and Fast Talkers (First Contact)
...I asked
Martin [Gero]
what it was like writing for the character of Daniel Jackson, and he reminded me that he had written two
Stargate SG-1
episodes, including "
Bad Guys
" in which Daniel Jackson was central to the story. As it turns out, he likes writing that character a lot. And of course he likes writing the McKay character also. But one of the issues that arises when McKay meets SG-1 is that he becomes focused on Samantha Carter, as you may recall from any of the McKay episodes of SG-1 or especially in the
Stargate Atlantis
episode "
Grace under Pressure
". But in these episodes Martin got to focus on McKay and Jackson without Carter in the mix which, in his words, gave the characters a chance to grow.
Of course
David Hewlett
and
Michael Shanks
happen to be the two fastest pseudo-science talkers in the business. Martin actually directed the second unit for part of these episodes, which including some scenes with these two actors. And try though he did, he simply could not slow them down. Case in point: the scripts for this two-parter were 64 and 65 pages long – a good five pages over our usual page number, and yet the episodes were 'to time'.
There will be more on these episodes in the next installment. For now, enjoy the first part!
Posted by Alex Levine at September 22, 2008 5:10 PM