From the SciFi Channel's
SciFi Weekly
:
(Please follow the link for the complete interview.)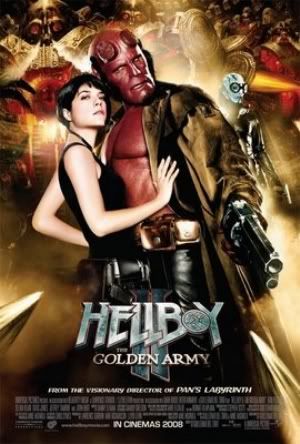 INTERVIEWS
July 09, 2008
Guillermo del Toro raises a Golden Army of Awesome in Hellboy II
By Patrick Lee
The unlikeliest hero returns in
Hellboy II: The Golden Army
, the follow-up to 2004's original
Hellboy
. Based on characters created by comic-book artist/writer Mike Mignola,
Hellboy II
is an original story by Mignola and writer/director Guillermo del Toro, the Oscar-winning helmer of
Pan's Labyrinth
, who also directs.
The entire cast is back, led by
Ron Perlman
as the big red demon,
Selma Blair
as his firestarter girlfriend Liz Sherman and
Doug Jones
as psychic amphibian Abe Sapien. They are joined by new characters, including Johann Krauss (John Alexander and James Dodd, voiced by
Seth MacFarlane
), Prince Nuada (
Luke Goss
) and his empathetic twin sister Princess Nuala (
Anna Walton
).
Like the first film,
Hellboy II
is based on characters and situations from Mignola's Dark Horse comic-book series. But where the first film closely tracked Mignola's graphic novel
Hellboy: Seed of Destruction
,
Hellboy II
is an original story in which the title character and the team at the Bureau of Paranormal Research and Defense must deal with an uprising against humans by magical creatures led by elf prince Nuada. Del Toro took a moment to speak with reporters last week about
Hellboy II
, which opens July 11.
A brief excerpt:
Would you do Hellboy III?
Del Toro: I would love that. There was a gap of four years between the first Hellboy and the second Hellboy, and provided that Ron takes his medicine, I think he can stay healthy enough and we can have a Hellboy III on the other end. The thing is, every time you take one movie, you are always postponing others, like At the Mountains of Madness [based on H.P. Lovecraft's book] or another of the small movies, one I'm trying to write called Saturn and the End of Days, which is the apocalypse seen from the point of view of a kid, a boy, a 7-year-old. And so, you know, every choice, you know—whatever day you drive on the freeway, you're not climbing Mount Everest, right?