A part of the MGM Stargate site has been updated to reflect the SGA Season Four cast changes (and new uniforms for season four - oh, and they've removed Carter from the SG1 section!):
href="http://stargate.mgm.com/characters.php">http://stargate.mgm.com/characters.php
STARGATE ATLANTIS
NEW Additions
Col. Samantha Carter (with a lovely new season 4 cast photo!)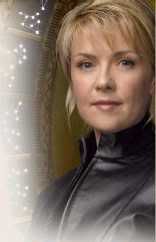 http://stargate.mgm.com/char_detail.php?id=14
Carter's and Amanda's bio's have been updated.
<><><><><>
Dr. Jennifer Keller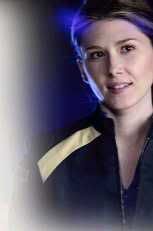 http://stargate.mgm.com/char_detail.php?id=23
Jewel Staite
Jennifer Keller is the newest member of the Atlantis expedition, taking over the position of Chief of Medicine. Quietly confident, Dr. Keller must quickly learn how to fit in to the strange and exciting world of Atlantis, and has her medical skills and courage tested early on.
Best known for her role as "Kaylee," the sweet, happy and sensual farm girl-turned-ship's mechanic on the critically-acclaimed sci-fi series Firefly, Jewel Staite is the newest addition to the Stargate universe.
Already a veteran actress at a mere 25-years-old, Staite began her career at the age of nine. Finding success early on, she earned both Gemini (Canadian Emmy) and Canadian Television Film and Showcase Award nominations for her work on the Disney Channel's Flash Forward with Ben Foster. While honing her craft at The Vancouver Youth Theatre, Staite landed numerous high profile television projects, including roles on Fox Family's Higher Ground with Hayden Christensen, a recurring role on the highly-praised FOX series Wonderfalls, NBC's Just Deal and Nickelodeon's Space Cases.
She made guest appearances on Showtime's Dead Like Me opposite Ellen Muth and
Rebecca Gayheart, UPN's Seven Days with Jonathan LaPaglia, FOX's The X-Files opposite David Duchovny, and CBC's The Odyssey and Da Vinci's Inquest, as well as Disney's Honey I Shrunk the Kids with Peter Scolari and Hillary Tuck. More recently, she starred opposite James Brolin and Natasha Henstridge in Lifetime's Widow on the Hill, and delivered a memorable performance in the pilot for Showtime's Huff,
starring Hank Azaria, Blythe Danner and Oliver Platt.
Staite made her feature film debut in 2005 in Universal Pictures' Serenity, Joss Whedon's big screen adaptation of the television series Firefly. She recently completed filming the lead role in the feature film The Tribe, which depicts the story of five young adults shipwrecked on a deserted island off the coast of Latin America where they encounter a lost tribe of savages. In the thriller, Staite portrays "Liz," one of the young adults who is very vulnerable to her surroundings.
Directed by first-timer Jorg Ihle, the film is being produced by Mo Ramchandani with Jo Bamford executive producing. The picture was shot in Costa Rica by Avatar Entertainment Group and was recently acquired by AfterDark Films for distribution through Lions Gate Films.
Staite currently resides in Vancouver, BC.