At
Total SciFi
:
(Please follow the link for the complete interview.)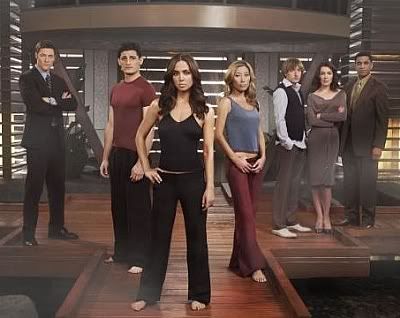 Posted on Tuesday 03 February 2009
Eliza Dushku: Echo in the House
"Welcome to our
Dollhouse
!"
Eliza Dushku
beams. She's speaking about the elaborate set for
Joss Whedon's
new drama about a mysterious agency that hires out people with specially-tailored personalities - including Dushku's character Echo. The
Dollhouse
set itself is elegant and multi-layered, with a variety of interconnecting spaces that make it easy for cameras to slide through. The actress took time out to tell Abbie Bernstein more about the show.
... So, to sum up, how would you describe your experience of working on Dollhouse with Joss Whedon?
It's one day at a time. We have an awesome team of writers. People are excited. My confidence and my enthusiasm and my excitement have only gotten more fierce. It's like a dream to be working with someone who has such a serious soul and such as serious voice, and he knows what he is saying and what he is creating and how important and how relevant it is.

And Joss is a liberated, clever guy. He wants people to think that he is super-cynical, but he is not at all. He has this view of the world that I feel is so extraordinary, because nothing is black and white. He can play in that grey area and with good versus evil so spectacularly that every script and every piece of material that I get from him is a joy.
Dollhouse begins airing on Fox on February 13 2009.