From GateWorld:

http://gateworld.net/interviews/action_man.shtml
(Please follow the link for the complete two-page interview.)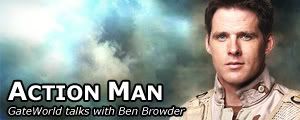 ACTION MAN
GateWorld talks with Ben Browder
Many believe Stargate SG-1 ended its journey on the small screen way too soon. Others think the series jumped the shark when it entered Season Nine. Whatever the case may be, actor Ben Browder, who was known well before entering the SG-1 scene, has made an impact on both old and young generations of sci fi viewers. GateWorld is privileged to speak with him again, this time inviting him to detail his favorite moments from the production of the first direct-to-DVD SG-1 film, Stargate: The Ark of Truth.
Ben talks us through what has been taking up his recent days, from coaching to developing his TV miniseries. He remembers what he most loved about showing up on the sets of Stargate every day, but is not afraid to reveal reasons why he also loves being home for a time.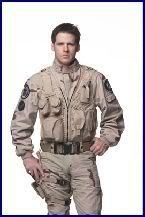 A brief excerpt:
GateWorld: For GateWorld.net I'm David Read and I'm here with Mr. Ben Browder. Ben, what's life been like since Stargate?
Ben Browder: Well obviously I'm home a bit more. That's the good thing. It gives me time to watch my children grow. I don't have to worry about "Am I going to be here for that?" "Am I going to be here for this?" That's the good thing.

The bad thing of course is quite frankly going to work was fun. Going to work is tremendous fun. You miss the people and you miss the day-to-day. You miss getting the next script and seeing what you're going to do. You miss walking over to a sound stage and seeing something you wouldn't quite frankly expect to see when you walk out of a sound stage.

Last time we were there I was walking with a journalist and there was a guy standing outside and they were testing a new bio gel. They were hitting this guy with a flame thrower. He's standing there in street clothes with nothing on his face, and they're hitting him in the face with a flame thrower. This is not what you'd expect to see when you walk out your front door in the morning. It's the kind of thing you might see when you walk out the door of your trailer. You just never know what you're going to get.

"Oh look, there's a Wraith over there. He's having coffee."

It's just another day at work. "h look, we're going to blow something up! We're going to freeze a bunch of people."It's fantastic, and that's an exciting way to start your day.
**snippage**