From GateWorld:
http://www.gateworld.net/news/2007/08/preliminary_schedule_for_iatlant
.shtml
(Please follow the link for the complete GateWorld article.)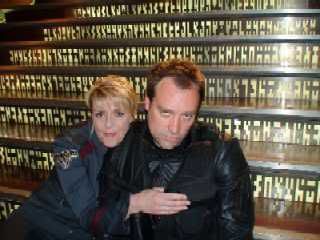 A brief excerpt:
Preliminary schedule for Atlantis Season Four
Friday - August 24, 2007 | by Darren Sumner
GateWorld has received a preliminary broadcast schedule for the fourth season of Stargate Atlantis on SCI FI Channel! The new season premieres in a little over one month, and will air straight through with only brief breaks for the holidays (one week for Thanksgiving, three weeks for Christmas and New Year's Day).
The mid-season finale will air on December 7, as previously announced. New episodes will resume on SCI FI on January 4, marching straight through to the season finale on March 7.
**snippage**
<><><><><>
NOTE: Stargate Atlantis Season Four premieres Friday, September 28, at a NEW time, 10pm, on the SciFi Channel (US).