From Variety:
http://www.variety.com/article/VR1117970622.html?categoryid=14&cs=1
(Please follow the link for the complete article.)
American Life TV buys four sci-fi series
Net nabs Irwin Allen-produced shows from 1960s
By JOHN DEMPSEY
'Lost in Space' is set to air on American Life TV network this fall.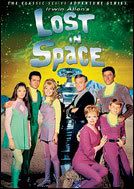 American Life TV, the network aimed at retiring baby boomers, has raided the vaults of Twentieth TV to buy four sci-fi series from the 1960s produced by Irwin Allen: "Lost in Space," "Voyage to the Bottom of the Sea," "The Time Tunnel" and "Land of the Giants."
The Allen series will take over American Life's schedule Thursday night; the network will stack them, starting at 8 p.m. Sept. 6.
"Voyage," based on Allen's 1961 theatrical, is his longest-running series (1964-68). "Lost in Space" (1965-68), was remade as a theatrical by New Line in 1998, seven years after Allen died.
**snippage**