From GateWorld:
http://www.gateworld.net/interviews/leaders_legacy.shtml
(Please follow the link to GateWorld to listen to the audio interview, or to read the transcript -- or both!)
LEADER'S LEGACY
GateWorld Talks With Torri Higginson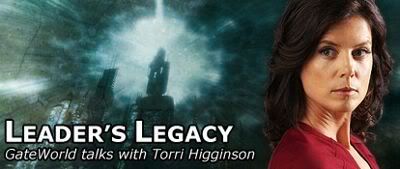 She has lighted a path as Atlantis's caretaker for three years. Now, in the season to come, Dr. Elizabeth Weir will make the greatest sacrifice of all. GateWorld spoke with the woman who could tell us all about it. It is our privilege to bring you another interview with Torri Higginson.
Much like McGillion as Dr. Carson Beckett, the news of Higginson's departure from series regular was a shock to many fans. In this candid interview, Torri tells GateWorld why she feels this has happened, and why she refuses to put all the blame on the show runners. She talks about highlight episodes from Season Three, teases us of what's to come, and wholeheartedly expresses her love to her fans.
GateWorld's interview with Torri Higginson has been made available to you in MP3 format for easy listening. It is over 23 minutes long. Prefer not to listen? We've also transcribed it [at the site]!
**snippage**