From SFX Magazine (UK):
http://www.sfx.co.uk/page/sfx?entry=latest_issue
(Please follow the link for complete information on this issue.)
Tuesday October 23, 2007
Latest issue
SFX 163 – December 2007
On sale Wednesday 24 October 2007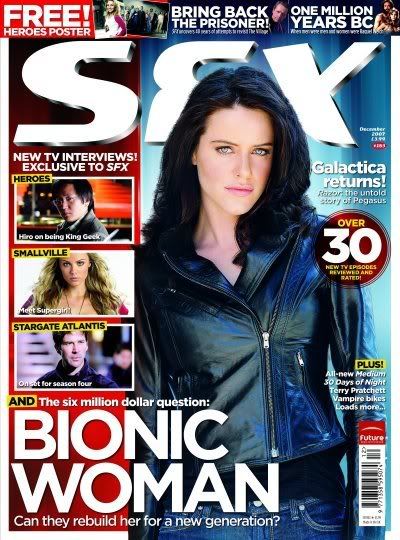 FREE STUFF!
Every copy of issue 163 comes with a double-sided A2 poster! Now you can have the entire cast of Heroes adorning your bedroom wall, or, if you want, you can just have Claire. On the poster, we mean.
STARGATE ATLANTIS
Atlantis's third season saw some major shake-ups in the team. We talk to the cast and crew about how things look in the fourth season.
Also, articles on:
THE BIONIC WOMAN
30 DAYS OF NIGHT
BRIAN ALDISS
THE PRISONER
SPOILER ZONE
This month, we review the Pilot episodes of Reaper, Chuck, Pushing Daisies, Journeyman and The Sarah Jane Adventures, as well as the season finales of The 4400 and The Dead Zone, and loads more besides!
PLUS!
Another chat with David Eick, this time about Battlestar Galactica's TV movie "Razor".
Our guide to why you should get excited about Heroes: Origins.
We look ahead to what we can expect from season four of Medium.
Laura Vandervoort, aka Smallville's Supergirl, tells us all about how she got the job as Clark's Kryptonian cousin.
Terry Pratchett talks about The Colour of Magic, Making Money, and a few other projects he's got on the go.
Heroes has made Masi Oka into an overnight star. Has it changed his life at all? We asked him!