From Yahoo TV:
http://tv.yahoo.com/stargate-atlantis/show/35558/videos
Team 'Atlantis' Returns To Earth - 01:41
When McKay's sister is kidnapped, the team returns to Earth to find her.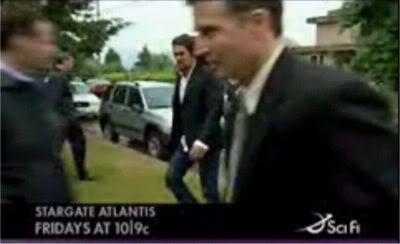 Screenprint from Yahoo TV video clip
"Miller's Crossing" airs Friday, November 30 at 10pm (with a repeat at Midnight) on the SciFi Channel (US). And, the previous new episode, "The Seer" airs again at 9pm.