From GateWorld:
http://gateworld.net/interviews/the_chucknician.shtml
(Please follow the link to download the audio interview and/or read the transcript at GateWorld.)
The Chucknician
GateWorld Talks With Chuck Campbell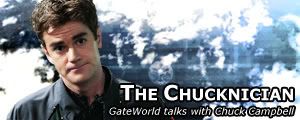 From Atlantis's "The Brotherhood" to the latest episodes of Season Four, Chuck Campbell has played the role of the Gate Technician with push-button diligence and a boy-from-next-door smile.
In last season's finale, "First Strike," the actor finally got a name for his character -- his own! A coincidence? Not really. Chuck gives GateWorld the inside scoop on this and multiple other issues, from the cast changes in Season Four to what's in store for Atlantis viewers in the weeks and months to come.
GateWorld's interview with Chuck is available in MP3 audio format for easy listening, and is about 30 minutes long. It is also transcribed [at the site]. You can also download the interview to your MP3 player and take GateWorld with you!