From a Richard Dean Anderson website e-mail announcement:
http://rdanderson.com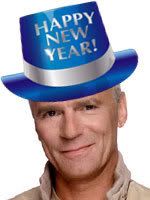 HAPPY NEW YEAR!
I have been working on a bit of a re-design of the front page of the website. My intent was to make some of features that people visit or use most often (What's New, Search, Forum, Contact/Fan Mail, etc.) more easily and directly accessible from the main page. (There may still be some additional tweaking as I try to make it efficient
without being too cluttered and as I see how it behaves in various browsers.)
You'll now find the newest additions right on the main page as well as behind the "What's New" button as usual. And just as I was prepared to upload the new look last night, RDA sent a message to all his fans, so I was able to upload that as well.
You'll now find RDA's New Year's message, and the new front page uploaded and ready to go.
In RDA's words, Happy 'Eau Ate' to everyone! :)
Kate
Richard Dean Anderson Web Site
http://rdanderson.com