From Slice of SciFi:
http://www.sliceofscifi.com/2008/03/29/slice-of-scifi-154/

Interview with the Nichelle Nichols & director J.Neil Schulman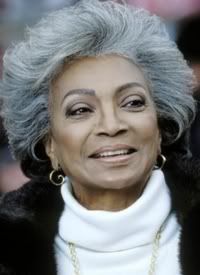 We are so pleased to be able to talk with the legendary star of stage, television and big screen, the Grand Dame of Scifi, Nichelle Nichols. Joining Nichelle is director J. Neil Schulman. The two worked together on the film "Lady Magdelene's," the new suspense/comedy film that is part scifi and part contemporary that has Nichelle starring as a modern day Madam of a Nevada brothel who, with a disgraced IRS agent is hot on the trail of a possible terrorist. We had such a great time talking with Nichelle and Neil that we just kept it going right into our Future Talk segment so that part of the show won't be featured in this week's edition. We know you will truly enjoy this fun conversation with one of entertainment's greatest ladies to ever grace the profession.
Download link:

http://www.sliceofscifi.com/podpress_trac/web/8599/0/Slice_154_032908.mp3