From Reuters Canada:

http://ca.reuters.com/article/entertainmentNews/idCAN1738470920080417
(Please follow the link for the complete article.)
"Battlestar" composer gets geeks off the couch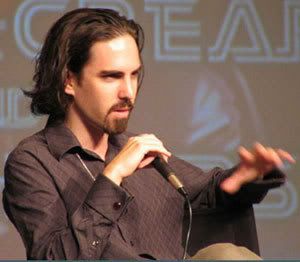 Thu Apr 17, 2008 1:35am EDT
By Ann Donahue
LOS ANGELES (Billboard) - With the advent of the fourth and final season of "Battlestar Galactica" on the Sci Fi Channel, there has been much bewailing and bemoaning about the lack of attention the show receives on some fronts.
Although the April 4 season premiere attracted more than 2 million viewers -- 40% more than the Season 3 finale -- the critical acclaim for "Battlestar Galactica" has never quite translated into stellar ratings.
That's the textbook definition of a cult show, the kind of program where you know you've found a fellow fan if they happen to drop the term "frakkin' toaster" into casual conversation. And though events tied to sci-fi shows might carry the imprimatur of geekdom and just-go-kiss-a-girl-already conventions, one of the duties of a cult show is to provide fodder for the cultists.
On Tuesday night, an overflow crowd gathered at the Roxy Theatre in West Hollywood to hear a concert conducted by Bear McCreary, the composer for "Battlestar Galactica." It was the second concert of the week, after a similar sold-out show Sunday night -- and a sign that such functions legitimately draw fans off the couch and out of the house.
McCreary's score is fully deserving of the fame, with its intense percussive mix of taiko drums and ethereal woodwinds. He also has one of the best blogs in the business (
http://www.bearmccreary.com/blog
). It's a fascinating look at the process of making music for film and television and the care he takes with aligning the score with the twists and turns of each character's plot lines.
**snippage**
McCreary was introduced by actress Kandyse McClure, who plays Petty Officer Dualla, to cries of "Damn! You're beautiful!" from the audience. "You guys are sweet," she replied. "I love sci-fi fans."
After all, music can even soothe the most savage Cylon.
Reuters/Hollywood Reporter