From the New York Post (New York, NY):
http://www.nypost.com/seven/04042008/tv/nothing_but_green_screen_104876.htm
(Please follow the link for the complete article.)
NOTHING BUT GREEN SCREEN
FIRST ALL-SPECIAL EFFECTS SERIES
By DON KAPLAN
The Web-only "Sanctuary" is being made for TV.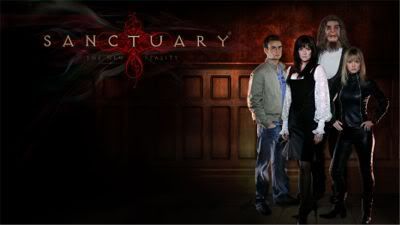 April 4, 2008 --
THE hottest movie technology around - the special effect that has made movies like "300" possible - is coming to TV.
A new Sci Fi channel series "Sanctuary" will be the first television show to be filmed almost entirely with "green screen" technology.
The technique puts the actors in front of a blank background saying their lines, and a computer will be used later to fill in the rest of the scenery and parts of the action.
It's a technique that was used with great success in movies like "300," "Sin City" and "Beowulf."
Green screen had been too expensive for a weekly TV series.
But the computer technology, in the last few months, has become better and cheap enough for a TV network to consider using to make an entire, 13-week series.
The new show will be produced by "Stargate" bosses Damian Kindler and Martin Wood, who already have a relationship with Sci Fi.
"Sanctuary" is described as the "X-Files" meets "Van Helsing." It follows the adventures of Dr. Helen Magnus (Amanda Tapping), a 157-year-old physician who studies monsters. She is helped in her work by her reluctant protégé, psychiatrist Will Zimmerman, and her fearless daughter Ashley. Together they seek to find and help the strange and often-frightening creatures that populate their world.
**snippage**