From Visimag:
http://www.visimag.com/tvzone/ts81_display.htm
(Please follow the link for the complete Table of Contents.)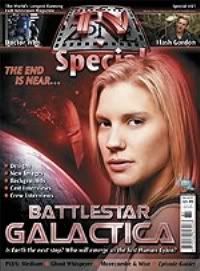 Special Issue #81
• ships from May 15 2008
News-stand Price • UK £5.99 / US $11.99
In 132 pages...
Battlestar Galactica
(2000s) Exclusive
• A massive 60-page overview
• Discover the course of events so far as we recap 'The Road to Earth'
• Remind yourself of the nature of the enemy with our handy Cylon run-down, numbers and all!
PLUS Exclusive interviews...
Michael Taylor
• The acclaimed writer reveals something of what's to come in the final season, as the Cylons slip into civil war, and Galactica nears Earth
Katee Sackhoff
• The lead actress reveals how Starbuck's changed now she's returned from the dead with a new mission – or is that obsession?
Callum Keith Rennie
• Cylon Number Two considers his transformation from an evil killing machine with a penchant for mind-games into Starbuck's unlikely soulmate
Michael Trucco
• The actor reveals how his character Sam Anders is coping with his wife's return from the dead – and the revelation of his own true Cylon nature
Alessandro Juliani
• The actor behind loyal Felix Gaeta considers how three years of pressure has transformed from naïve idealist into a man destroyed by his own lies
**snippage**