From Media Blvd Magazine:
http://www.mediablvd.com/magazine/the_news/celebrity/alex_o%27loughlin_on_the_set_of_%27moonlight%27_200805081133.html
(Please follow the link for the complete interview. Photos at the site.)

Alex O'Loughlin on the set of 'Moonlight'
Thursday, 08 May 2008
By Christina Radish
Australian actor Alex O'Loughlin first came to the attention of American audiences when he was added to the sixth season of the Emmy-winning police drama The Shield. The CBS television series Moonlight marks the 31-year-old's first turn in a leading role, as private investigator Mick St. John. Captivating, charming and immortal, Mick defies the traditional blood-sucking norms of his vampire tendencies by using his wit and powerful supernatural abilities to help the living. Bitten 60 years ago, and forever 30 years of age, Mick develops a distinctive bond with ambitious investigative reporter Beth Turner (Sophia Myles), even though their differences keep him from pursuing his feelings for her.
The actor took a break while filming Episode 15 to speak with MediaBlvd Magazine about the relationship between Mick and Beth, and where he sees the show going in Season Two.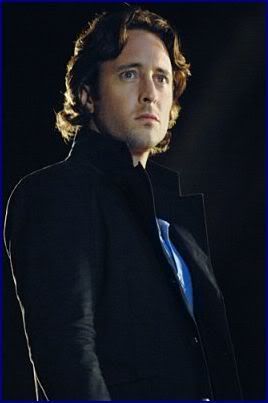 MediaBlvd Magazine> Were you a fan of the vampire genre, before this show came your way?
Alex O'Loughlin> Absolutely, yeah. I've always been enamored with the shameless sensuality within the genre, unlike any other genre. And, also, the shameless excess to which these creatures live, and how deeply vampires feel, sensoraly. Their senses are heightened. If you were to compare a vampire to an animal, I would think it would probably be a cat, on a lot of levels, with the touch and smell. They're so sensitive, especially when they morph. I've always loved that. As a kid, the head of my bed was underneath a really big window and, where I grew up, you could see the stars really clearly. I used to lay on my back and look up at the stars. From the moment I learned the concept of infinity and I could grasp it, I struggled with it. The stars used to keep me awake at night, to the point where it was very difficult for me to get up and go to school the next day because I'd just be doing head miles about this thing, called infinity. How can it never stop? How can it never end? What do you mean it doesn't have an end? And, even if it does have an ending, what's after that? I've always been fascinated with the concept of infinity and immortality -- that you would go on forever, regardless of what happens in the world. It could be post-apocalyptic and everything's dead, except for you.
**snippage**